The main objective of community outreach and public involvement is to solicit input through an open and transparent process that includes the public, businesses, property owners, agencies, stakeholders, tribal governments, and community groups within the study area. The process has been structured to involve people early and often, and to share information as it becomes available.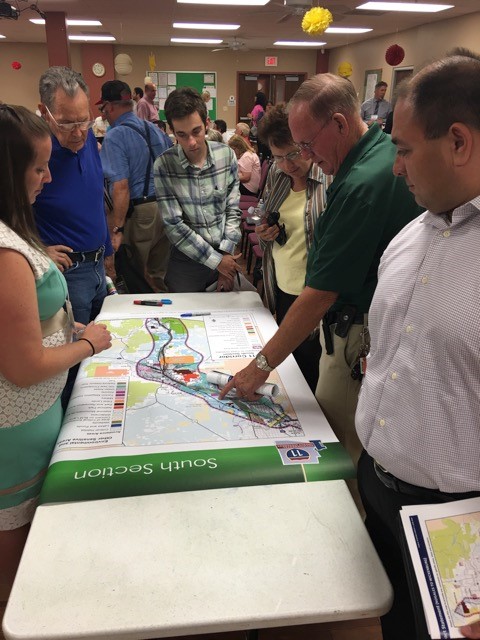 Public Scoping Meeting - Tucson
The public involvement and outreach process is designed to be personal and extensive. Because of the large size of the study area, it has been divided into three distinct sections: South, Central, and North (see map). Public hearings are being held in 2019 in each section and public meetings were conducted in each of the three sections in 2016 and 2017. In addition, a variety of opportunities have been made available for the community to get involved and stay informed about the study. Opportunities include the following:
Emails and newspaper notifications to inform the public of upcoming meetings and project updates
An online database that tracks comments and creates an interested parties contact list
Online surveys on the I-11 Corridor Tier 1 EIS study website to obtain project feedback
Corridor-wide meetings to solicit input, including the availability of translation services and other reasonable accommodations, such as sign language interpreters, as needed
A bilingual telephone hotline in both English and Spanish
Media advisories, news releases and updates on social media
Frequent coordination with agencies, communities and tribes
Project information available in English and Spanish. Translation for other languages is available upon request
Project Updates and Mailing List
Short project updates are frequently posted to the website, under Blog, to inform the public and stakeholders when new information is available and to provide additional information on project-specific elements. Those on the project mailing list will receive an email each time a new update is posted. Join the I-11 Tier 1 EIS Mailing List to receive email blasts.
Advertising
Advertisements are placed in regional newspapers and with radio stations to announce meetings and other important study information.
Website
The project website is used to disseminate information and provide a schedule of events. The site is presented in English, with the ability to translate information into other languages. The website is frequently updated to feature new information, technical documents and reports.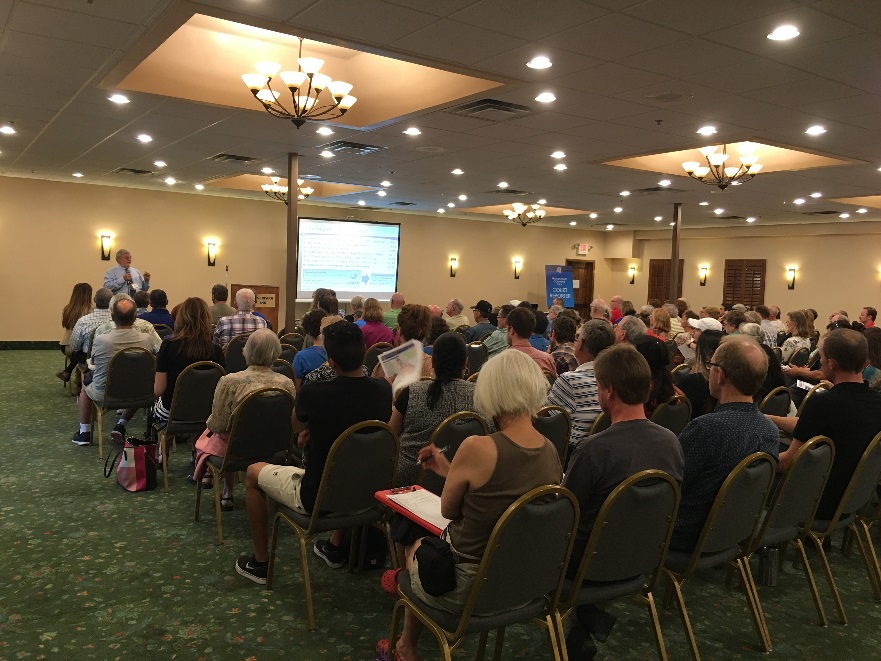 Public Scoping Meeting - Tucson
The website is updated with the intent of providing real-time project information.
Meetings
Corridor-wide public meetings have been conducted at major project milestones to cover specific topics and provide opportunities for the community to interact with the project team to discuss project issues and recommendations.
For information about the next corridor-wide meeting dates, times and locations, and to view information from previous meetings, visit Public Meetings and Outreach.
Federal, State, Regional, County, Local Agency and Tribal Interaction
Under Section 6002 of the Safe, Accountable, Flexible, Efficient Transportation Equity Act: A Legacy for Users (SAFETEA-LU), agencies are responsible for identifying any issues of concern regarding potential environmental, social or economic impacts that could substantially delay or prevent an agency from granting a permit or other approval needed for the project. Section 6002 is intended to assure that agencies are fully engaged in the project and the decisions regarding the alternatives to be evaluated.
In addition to outreach to the general public, an extensive agency coordination process has been occurring simultaneously. More than 60 agencies are included in the stakeholder database, including elected officials, federal agencies, tribal governments, organizations, special interest groups, and other interested parties. These stakeholders receive email updates regarding study progress, and they are invited to key meetings during the environmental review process.
In addition, under NEPA, specific agencies are called upon to have a more involved role in the study process. Nine agencies have accepted the opportunity to participate as Cooperating Agencies, which represent those with jurisdiction over any environmental impact involved in the study. They are responsible for identifying impacts and important issues to be addressed in the Tier 1 EIS pertaining to the agency's jurisdictional resource(s) and for reviewing all technical documents. Fifty-two agencies have accepted the opportunity to engage as Participating Agencies, which are federal, state, regional, county, and local agencies, as well as tribal governments, that may have an interest in the I-11 Corridor. Participating Agencies provide input on the Purpose and Need, range of alternatives, methodologies, and level of detail required to evaluate impacts relative to their respective jurisdictional resource(s)
.